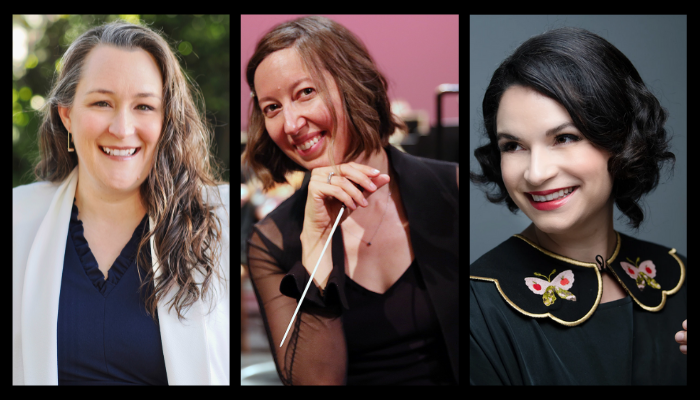 The Schulich School of Music is proud to announce that, starting in August 2023, three new faculty members will join its Department of Performance:
Danielle Gaudry, Associate Professor of Instrumental Conducting (Wind Orchestra and Community Engagement)
Mélanie Léonard, Assistant Professor of Instrumental Conducting (Contemporary Music)
Marina Thibeault, Assistant Professor of Viola
"It is truly exciting to welcome new colleagues to the Department of Performance," said Stéphane Lemelin, Chair of the Department of Performance. "These three accomplished musicians bring with them a wealth of professional experience that will enrich our community and contribute to the evolution of training for a new generation of musicians."
Danielle Gaudry, a Schulich School of Music alumna (BMus'00), will be returning to Canada to join us from California State University East Bay, where she has been Director of Bands and Instrumental Music Coordinator for the past 10 years. She has received multiple degrees and diplomas in conducting and music education, including a DMA from the University of Cincinnati College-Conservatory of Music. Dr. Gaudry was a member of the Canadian Armed Forces for 14 years and was Director of Music of the Regimental Band of the Royal Winnipeg Rifles from 2002 – 2010.
Mélanie Léonard holds a doctorate in orchestral conducting from the Université de Montréal and currently leads a full-time career as a conductor. Frequently engaged as a guest conductor for orchestras throughout Canada, she has worked with many leading ensembles and artists. Dr. Léonard is the Music Director of Symphony New Brunswick and was formerly Music Director of the Sudbury Symphony Orchestra. She has founded three different new music organizations: Ensemble Prima, the Wild West Music Ensemble and the Calgary New Music Festival.
Marina Thibeault is also a Schulich graduate (MMus '16 and DMus '22). In 2016-17, they were the first violist to be named Révélation Radio-Canada Musique Classique. They have performed around the world and have commissioned many new works for viola. Dr. Thibeault has recorded three albums so far; their 2020 album ELLES was nominated for a JUNO award and their album Viola Borealis recently earned the 2023 Juno Award for Best Classical Album. Currently Assistant Professor of Viola at the University of British Columbia, they will be available for private instruction at Schulich as of September 2023.